🇧🇼 April 2023: Meet Kushatha Ntwaetsile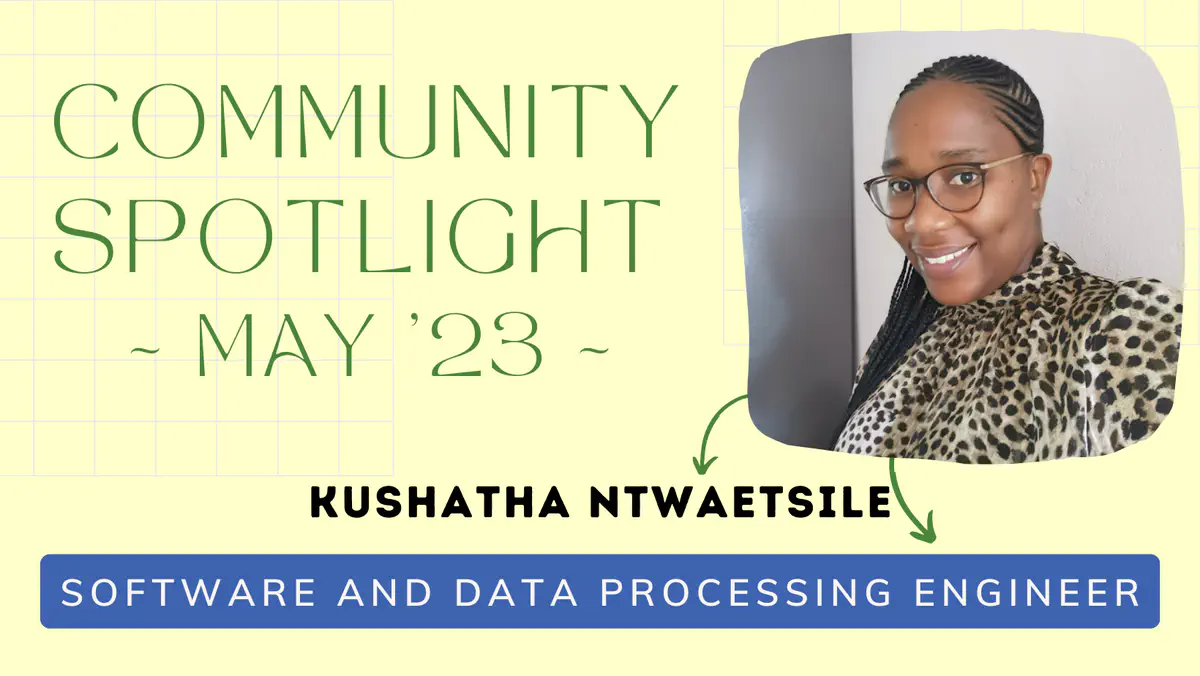 Our fourth spotlight shines on Kushatha Ntwaetsile from Botswana. Kushata is a Software and Data Processing Engineer at the Botswana International University of Science and Technology - SKA/AVN Department.
In short
---
---
🎼 What is your favourite song?

🔉 I don't have a favourite song, It just depends on my mood. Weird right? Currently I would say Good Morning by Kanye West as I am looking forward to my graduation this year. 🎉🎉🎉
📚 Can you describe your background and your current role?

What did you study?
Do you have postgrad qualifications? In what area?

I graduated with an MSc Computer Science from BIUST in 2018. Before then, I had obtained my undergraduate Degree in Computer Systems Engineering from University of Sunderland through the Botswana Accountancy College in 2013. Recently, I successfully defended my thesis at the University of Hertfordshire-UK, obtaining a PhD in Astrophysics.

What is the title of your current role?

I am a Software and Data Processing Engineer

Give a one-sentence summary of what you do in this role

My role will include developing algorithms including machine learning algorithms that will be used to process large data sets from both the SKA and the AVN and also developing telescope operational software.
💼 Tell us a bit more about your PhD project and the skills you learned through it?

Radio astronomy is currently experiencing an unprecedented growth in the amount of data from large astronomical surveys and new techniques will be required to analyse these large data sets. Over the past decade machine learning in astronomy has evolved rapidly to match this increasing volume of data. In my thesis, I implemented unsupervised machine learning models to automatically classify galaxies according to their morphology using data from the LOFAR Two-metre Sky Survey (LoTSS).

Skills learned: coding in Python - I learned coding in Python when I started my PhD. As I was from a Computer Science background, I learnt how to analyse and interpret Astronomical data.

Soft skills: I learnt how to manage my time, as well as managing projects, I started my PhD as a new mum, I had to jaggle between being a student, mother and wife.
💼 Describe a typical workday… Expand specifically on the amount of time you spend coding

How much time do you spend coding?

While doing my PhD, I used to spend a couple of hours a day coding in Python. I would say around 5 hours. But for this role, I think I will be spending the same number of hours or more as this project will be the first of its kind in Botswana.

How many projects do you work on?

Currently I would be working as a software engineer for both the SKA/AVN Botswana project and the BotSat1 Project, which aims to launch Botswana's first satellite late this year. My role will include designing and implementing the software systems for controlling the satellite and developing algorithms for analyzing the data collected by the satellite.

Give some keywords that summarise the topics of your projects.

Designing and implementing software systems.
Developing algorithms for analyzing data.
Ensuring that the software and data processing systems are reliable and efficient.
Developing a plan for testing and validating the software and data processing systems.

How often do you work with non-coding researchers?

Most of the time, I work on two projects which include non-coders.
🏫 Tell us more about the organisation where you work?

What is their primary objective?

SKA/AVN Botswana Project - To establish the first radio observatory in Botswana which will be part of both the African VLBI and the SKA projects.

I am also part of the BotSat1 Project which aims to launch Botswana's first satellite late this year.

How many people in your organisation are involved in research software development (a thumbsuck is okay)?

Currently just me but I think some of my technical team members will be involved somehow.
💡 Where do you get training and support?

Which communities of practice are you part of?

I am part of the African Astronomical society which is a Pan-African Professional Society of Astronomers and will soon be part of the Astronomical society of Botswana which seeks to disseminate and share knowledge in the Astronomy domain in an effort to excite youngsters and interest all into learning about and participating in astronomy in Botswana.

What training has had an impact on your current career?

Research and development workshops that the doctoral college at the University of Hertfordshire used to offer during my PhD. This included topics such as Research Data Management, Communicating Your Research, Quantitative Data Analysis and Thesis Writing just to mention a few. I believe these positioned me well as a researcher in my field.
💭 Do you see yourself as an academic, researcher, software engineer, technician…? All of it? Something else? A mix of one or two terms?

I think a mix of three terms, I have been an academic for the past few years as I was a tutor for the university of London where I supported their MSc Data Science programs. As a PhD student, I would say I have been a researcher for the past 4 years and lastly now I am a data processing Engineer.
⛔ What kind of barriers do you face in your work?

Being the only female in our department and people thinking being a woman and having a PhD is such an accomplishment. I don't attribute success to gender or race, I have a PhD because I am capable as a person and simply because I worked hard to be where I am.
😍 What part of your job do you enjoy the most?

Outreach, getting to tell people about the work we do and seeing the excitement on their faces when they realize even in Botswana we have people who have studied Astrophysics.
🆘 What would make things easier for you and support you in your work?

Having funding especially for mobility. Research and innovation needs some financial support for researchers to be able to attend conferences and even to go and benchmark from other researchers and Engineers in other countries.
🔭 What are you looking forward to this year?

My PhD graduation in September, I just can't wait..
💬 Please share the most helpful career advice you've received that you want to share with other Africans in similar roles.

When I joined BIUST, someone said to me, workplaces always have their own politics and that's not what you are here for. Just pick your lane, do your job, get paid and go home. Do what you are here for and when you look back you will see the mark you have left.